Wheelie Kings!
 Wheelie Kings!
Throwing the Nose Up Is Necessary For Style And Function…
The Wheelie—its necessary for function and style. Okay, style isn't as important as function in drag racing, but you can't deny the supreme coolness of a giant wheelie—or even a small one. Style also has its place in the sport—just look at all the wild paint jobs, polished aluminum and jumbo-sized race haulers. Style has always been important, dating back to the 1950s and 1960s. Anyone remember when every car had a name and who could forget those psychedelic paint jobs?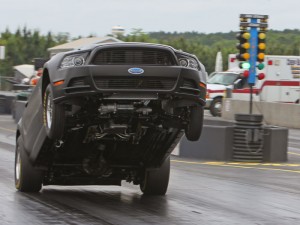 From a technical standpoint, weight transfer (also called pitch rotation) is needed to maintain traction off the line. In some cases, it culminates in a wheelie, in extreme cases, a really big one. Mechanically, our cars lift the nose when torque from the driveline is applied to the chassis, and we take advantage of the torque by connecting the rear housing with suspension links that connect to the body or suspension of the vehicle. Since every action has an opposite and equal reaction, when the tires rotate forward, an opposite and equal force is applied to the rear housing.
Since our suspension links are connected to the housing, force is applied to them as well. Using a four-link as the example, during launch the upper bars are pulled rearward and the lower bars are driven forward and up. It doesn't matter if you have leaf springs, a ladder bar, torque arm or a three- or four-link, a force is still applied between the housing and the body (or chassis). Since each type of rear suspension connects to the body (or chassis) of the vehicle so the force acts upon the body/chassis, causing lift.
Drag cars, like the Ford Mustang, Chevy Camaro and Dodge Challenger also use a front suspension that works in conjunction with the rear suspension. This usually includes tall, thin, front springs that compress easily and store energy. We combine this with dampers that allow the front end to rise quickly and settle slowly. Of course, this is a basic explanation. Of course, most dampers are adjustable so we can dial in the performance of our suspensions.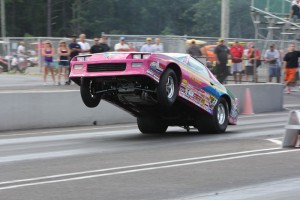 And while racer like their cars to be predictable, the fans want the exact opposite. Unpredictable. It's what any drag race needs to be exciting and offer that nail-biting drama that keeps fans coming back. Each class has it's own level of unpredictability, and astute fans zone in on this. Whether it's a NHRA Pro Stock burn-down, a Top Fuel fireball or a Stock or Super Stock Wheelie, fans thrive on this element of our sport.
Wheelies have always fascinated drag race fans. For drivers, a wheelie is a rite of passage. Every racer wants to yank the wheels—it really doesn't matter how high. A wheelie is a wheelie, whether it's a dinky credit-card wheelie, or a 300-foot bumper-dragger, getting the front tires off the ground is a thrill.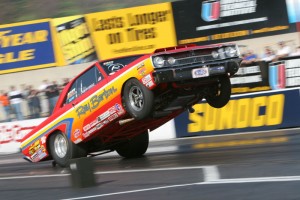 If you're into wheelstands, NHRA Stock and Super Stock is for you. The classes are filled with production-based cars that any fan can relate to, and they're set up for maximum acceleration with little compromise. Big horsepower and modern technology allows these muscle cars to dig in and hike the front end up in spectacular fashion. At some events, it's a literal wheelie contest.
In Stock, the cars are limited to 9-inch wide tires, so it's important, no matter the horsepower level, to get the nose up, thus transferring weight to the back, in order to keep the tires glued to the track. In contrast, Pro Stock cars have a favorable front-to-rear weight bias (just over 2,300 lbs total weight), precisely managed clutch slip, and huge 17-inch wide racing slicks. With this configuration, very little front-end lift is required, even though weight is transferring to the rear on launch.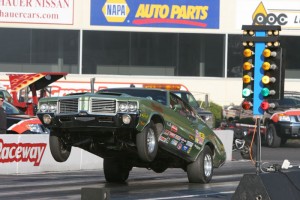 Stockers are generally about a thousand pounds heavier (some top 4,000 lbs.) and they run on the aforementioned 9-inch wide tires. Normally, this requires substantial pitch rotation to keep the tires planted as the car accelerates. Super Stocker can use 14-inch wide slicks, so often they can get away with less lift, but many still throw the nose high.
Wheelies are fun to do, fun to watch, and great fun to photograph. Shooting a nice wheelie never gets boring, and we're glad to share, so we hope you enjoy our gallery of Stock and Super Stock wheelies.
Check out more of Evan J. Smith's Wheelie King Photos Below….